Skip to product information
Best Value

Best Value

Best Value

Best Value

Best Value

Best Value

Best Value

Best Value

Best Value
Mole & Skin Tag Corrector Serum 

Amarose skin tag remover is a solution for unwanted moles & pesky skin tags that works in the privacy of your own home

Not sure if this is for you? Take our personalised skincare quiz here! Take the quiz
Free shipping on orders over $60.
Don't love it? Return within 30-days.
Clinically Proven

Cruelty-Free

Safe For All Skin Types

Vegan Friendly & Organic
View full details
Amarose Skin Tag Remover is a serum made from ancient, all-natural ingredients. Apply just a few drops to a blemish... and the serum penetrates to the root of the wart or skin tag and it begins the removal process.
86% strongly agree the Skin Tag Remover Serum works.
93% strongly agree the serum delivers relatively fast results.
97% strongly agree they are more confident in the appearance of their skin.
*Based on a consumer perception study of 99 people, ages 24-64 completing 87 applications over 28 days.
Sanguinaria canadensis, Zincum Muriaticum, Distilled Water, Glycerin, Sodium Benzoate, EDTA, Potassium Sorbate, Tea Tree Essential Oil
I have oily skin, will Amarose Skin Tag Remover serum cause any irritation on my skin?

Amarose Skin Tag Remover is suitable for all skin types and will not cause any irritations or itching.

What are the Amarose Skin Tag Remover ingredients?

Amarose Skin Tag Remover is a powerful natural blend of sanguinaria Canadensis and zincum muriaticum.

Can I use Amarose Skin Tag Remover for eliminating big warts?

Yes, Amarose Skin Tag Remover drops can remove big skin warts anywhere on your body without any pain.

Is Amarose Skin Tag Remover skincare oil entirely natural?

Amarose Skin Tag Remover skincare serum is an entirely natural serum that does not have any harmful substance in it.

Can I buy Amarose Skin Tag Remover skincare drops from any retailstores?

Amarose Skin Tag Remove oil is only available on its official website and isn't sold in any retail stores.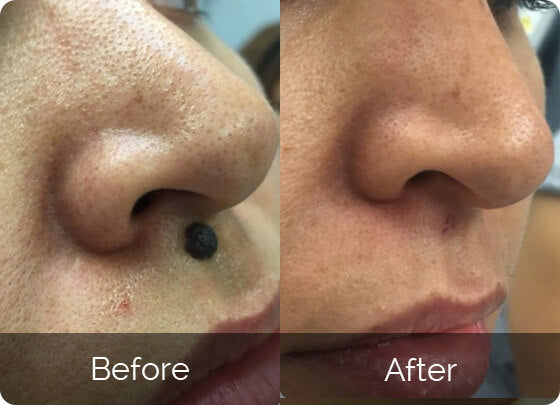 How to use
Step 1.
When you apply Amarose Skin Tag Remover to the blemish, the active ingredients will penetrate to the root and alert your immune system. This immune response will send white blood cells to the blemish and start the removal and healing process.
Step 2.
The area may become slightly inflamed and a scab will form over the blemish. Once the scab forms Amarose Skin Tag Remover has done its job and your body will do the rest. This means stop applying Amarose Skin Tag Remover and let the scab heal on its own.
Step 3.
Be sure not to pick at the scab and let it fall off naturally. Once the scab is gone, make sure to apply Amarose Skin Tag Remover Repair Cream or a Neosporin type product. This will accelerate the healing process and limit the risk of scarring.
Step 4.
Once fully healed there will be little to no trace of the mole or skin tag. When done correctly, they will be gone for good and never return.
Skincare that makes you smile
Amarose ladies sharing their experiences
Does not work and now I'm stuck with 3 bottles
Didn't notice any improvement in skin tags after two bottles of this stuff 👎🏼